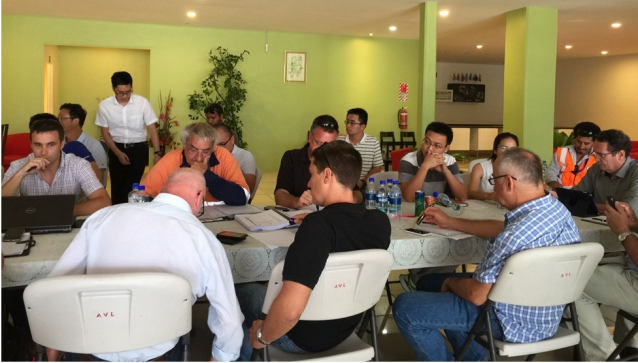 PORT VILA, 24th November, 2016: A pre-bid meeting with all interested bidders in the Vanuatu Aviation Investment Project was held Wednesday this week at the AVL VIP lounge. It follows publication of tender notices issued two weeks ago for the construction and rehabilitation of Bauerfield international airport and other related infrastructure works on Pekoa and Whitegrass.
At least nine interested bidders – both international and locally-based were at the meeting where they were briefed on the World Bank procurement guidelines and procedures.
A key purpose of the pre-bid meeting was also to clarify issues and answer questions on any matters regarding the tender document for the airport rehabilitation works, which come under what is called Vanuatu Aviation Investment Project (VAIP) and funded by the World Bank under its Pacific Aviation Investment Program (PAIP) at a cost of about Vt4 billion, or USD 39 million.
The bid document comes under two lots. Lot 1 works includes improvements to Bauerfield international airport to cater for Code 4E aircraft operations; reconstruction of the main runway and taxiway, reconstruction of existing apron including widening and extension works; and construction of new stub taxiways and holding bays, as well as geometric improvements to the country's airport infrastructures.
Lot 2 involves design and resurfacing of the main runway, taxiway and shoulders at Pekoa airport; while the Whitegrass airport works involves design and surfacing of the main runway, taxiway and shoulders.
The tender was launched on November 7th. Bid submissions deadline is December 19th 2016 during which the bids will be publicly opened and then evaluation process begins. 
The project is being fast-tracked to speed up the processes so that the actual awarding of a contract could be done sooner rather than later.
Evaluation of the bids should be completed before the end of the year followed by the awarding of a contract by end of the year so that works can commence early next year, 2017.
The urgency of the works were stressed by the Chief Executive Officer of Airports Vanuatu Ltd, Jason Rakau.
"This project is top priority on the government's list of agendas for obvious reasons. 
"The country cannot afford to slip up again with the current condition of the runway, and in light of the events that happened early this year, resulting in the cancellation of flights to Bauerfield by a few airlines.
"The runway is so important to our tourism sector and the economy as a whole," said Rakau.