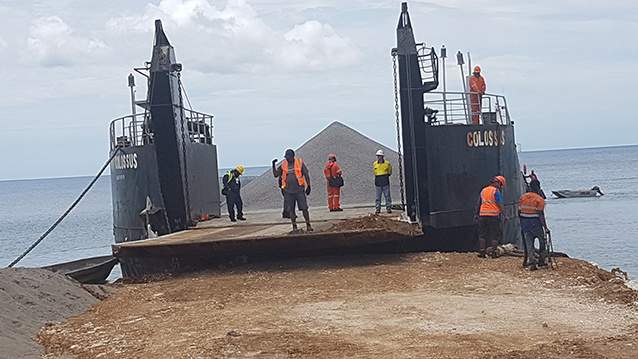 Port Vila, 26th January 2018— The contractors behind the Vanuatu Aviation Investment Project (VAIP) – China Civil Engineering Construction Corporation JV have made a lot of progress towards the improvement of Vanuatu's main airport infrastructures, with construction of two asphalt plants in Santo and Efate nearing completion, including the laydown and production camps.
So far equipment and materials for surface enrichment treatment of the Whitegrass airport have already been shipped to Tanna, with 90% of the preparations achieved, while preparatory works for the overlay of Pekoa runway is at 60%, says Jack Zhang, the contractor's project manager. Pekoa works will commence as soon as essential machinery arrive from China and the design has been approved by the engineers.
In Port Vila, construction of the laydown site has progressed immensely since the delays experienced during the better part of 2017 due to difficulties trying to nail down an appropriate site for the laydown and offloading of materials, equipment and aggregates. To date foundations for the asphalt plant has been completed, including construction of the laboratory which is now ready for use.
In addition, both the Government and the contractors, are pleased to inform that the first shipment of 32,000 tonnes of aggregates from the Karreman Quarries in Brisbane, Australia have arrived. 
Key stakeholders particularly within the tourism sector and the general population of Vanuatu can expect to see works starting shortly on the country's main international gateway. 
Meanwhile, the contractors are working 24 hours in shifts to offload the aggregates from large vessel now in anchorage outside Mele Bay onto the much smaller landing barge which will do deliveries near the Mele Golf course property prepared as the offloading and laydown areas.
Stockpiling of base materials, which commenced towards the end of 2017 at the eastern end of Bauerfield is progressing with greater intensity. 
Once all these preparations are done, works on the runways should take less than 6 months to complete, depending on the number of possible 'operational windows' identified. Such operational windows are especially important to ensure no disruptions are caused to normal airline operations at all three airports, especially Bauerfield.
The entire VAIP project is scheduled to be completed by September this year.
The World Bank-funded project covers Bauerfield rehabilitation, surface enrichment treatment to Whitegrass and overlaying of Pekoa airport in Santo.