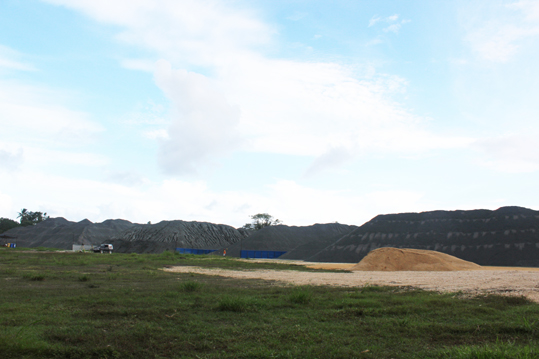 PORT VILA, 16th April 2018 —More ground preparations have been advanced towards the World Bank funded rehabilitation and/or upgrading of the country's three key airport infrastructures—Bauerfield, Pekoa and Whitegrass under the Vanuatu Aviation Investment Project (VAIP).
Vanuatu Project Management Unit's (VPMU) Harrison Toar Luen, who manages the Government's VAIP projects says it is vitally important to get the preparatory stage right to ensure works meet all design specifications, as stipulated under the contract between the Government and Contractors – China Civil Engineering Construction Corporation JV.
He says since the excavations on the apron at Bauerfield last month, the contractors have encountered pockets of very soft materials underground, which present potential risks for the parking area. As a result the contractors have been working with the engineers to ensure this is rectified. Tests have had to be conducted also in other key sections of the airport such as the turning nodes to see if similar soft patches exist, and measures taken to rectify them. 
Mr. Harrison also says recently the Government had to step in to help the contractors tie down an important arrangement with an independent New Zealand company based in Fiji who will certify all materials to be used on the runway. 
"This will ensure that the works meet all quality and design specifications. Such control measures are very critical for the long-term stability of the airport. 
"We want to ensure that once the runway is redone, it is able to serve the country for the full life of the rehabilitation works," says Mr. Toar.
Similar test works on the Whitegrass airport was planned for last week but this did not eventuate. Mr. Harrison says this is expected to happen this week, stressing again the importance of getting the works rolling at the right calibration. 
"The Tanna works could take less than a week to complete. Tests like the planned one are simply to ensure quality and that the works meet what the government wants to achieve at the end of the day," he says.
Meanwhile, an extra shipment of aggregates is on the way and should arrive by the end of this month. The surplus materials are necessary to avoid the risk of any potential shortage during the course of the rehabilitation works, particularly at Bauerfield.  About 45,000 tonnes of aggregates have already been shipped in.
Works at Pekoa on Santo also await the arrival of the final set of machinery on board the ship now en route.