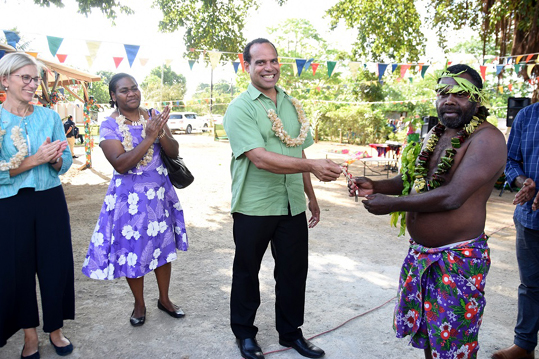 Ohlen Nambanga has a new community centre, which was officially handed over to the community on Wednesday 20th of November 2019 by the Governments of Vanuatu and Australia and the Asian Development Bank.  
The building includes a universally accessible toilet, a shower as well as gender-segregated toilets with hand basins and a baby change table. The centre also has two water tanks to provide rainwater for community use.  
Ohlen Nambanga is one of seven settlement communities to benefit from new or improved sanitation facilities as part of the Port Vila Urban Development Program funded by the Governments of Australia, Vanuatu and a loan from the Asian Development Bank.
"The partnership between Australia, Vanuatu and the Asian Development Bank has delivered better services to people, including this new community centre.  I am delighted that this new centre will benefit 200 people including women and people living with disabilities," said Australian High Commissioner, Jenny Da Rin.
The community centre was built by the community and will be managed and maintained by the community with an over-sighting role handed to the Port Vila Municipality's Ward Secretaries.
A tripartite agreement – the first of its kind for such a community facility, was also signed by the community, the Government and the Port Vila Municipality. The agreement is intended to ensure that the facility is properly maintained and managed into the future.
"The Government of Vanuatu is grateful to the Government of Australia and the Asian Development Bank for their assistance towards this important project. The community of Ohlen Nambanga must be commended for their commitment and contributions towards this project, which is the culmination of a steady series of initiatives - in partnership with the Government - that have transformed this community over the past few years. The community's construction of this centre provides a model for similar projects in the future," said Minister Regenvanu.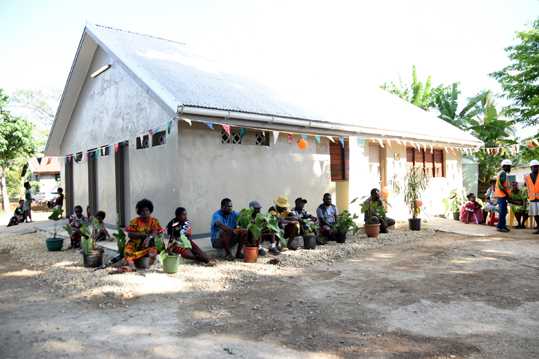 The centre also includes a conference room that can be rented out to generate income to help maintain the building and fund other community activities. The centre, built to resist strong cyclones, can also be used as an evacuation centre in times of crisis. 
"The construction of these facilities by the community clearly demonstrates that community engagement in the construction of sanitation facilities can be successful.  The Ohlen-Nambanga community has set an excellent example for other communities in Vanuatu and the Pacific to follow," said Nancy Wells, Senior Coordination Officer of the Asian Development Bank.