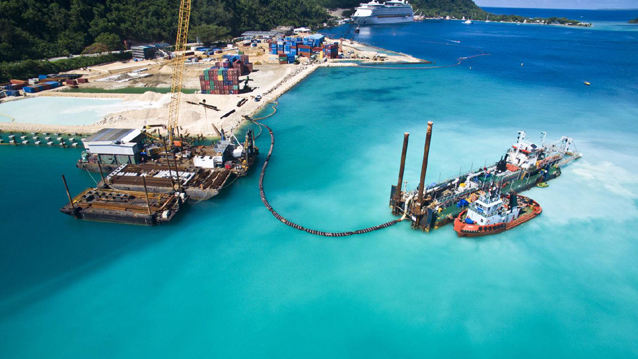 Bidding for South Paray Domestic wharf is set to kick off next month, with construction expected to begin in the third quarter of this year 2021. The construction of the new South Paray Domestic Shipping Terminal, as part of the Vanuatu Inter-island Shipping Support Project (VISSP), was brought to a halt in 2018 when independent investigations, instigated by the Government and its development partners, identified design concerns and the requirement for more detailed site investigations. Click here for more
Those investigations have now been completed and applied to inform new designs for the facilities.  
The designs, which will be finalized this month, have also been independently reviewed to ensure the new structure meets international design standards including the potential for significant earthquake loading.
The pre-qualification tender was closed on 26th February 2021 which sought submissions from potential contractors with the qualifications and experience to undertake the construction works.  Submissions have been under evaluation since March.
The initial VISSP budget was Vt5 billion which included the design and construction of five new facilities, repairs at two existing facilities at Lenakel and Litzlitz, the establishment of the Office of the Maritime Regulator (OMR) to better manage marine operations and safety, and shipping subsidies to ensure services continue on the non-profitable shipping routes in the Banks/Torres groups, Tafea Outer Islands and West Coast Santo. 
Approximately Vt2.3 billion has been spent to date on preliminaries and general costs for all locations of the seven wharves, initial mobilization to Simonsen, steel piles and concrete pipes for most sites; delay claims due to faulty designs, dredging, reclamation, revetment works, access roads, and services for South Paray. 
Of the original funding, about Vt1.5 billion has been set aside to recommence construction. Due to budget limitations, the civil works under VISSP are being implemented in stages. Stage One will see completion of South Paray and repairs to Lenakel and Litzlitz wharves. In Stage Two, Simonsen and Port Sandwich will be addressed, as well as the Litzlitz ramp. 
Updates for the other wharf infrastructures under this project will be highlighted in our next edition.